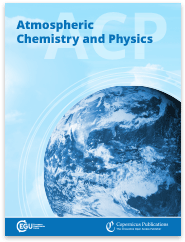 Atmospheric Chemistry and Physics (ACP) is a not-for-profit international scientific journal dedicated to the publication and public discussion of high-quality studies investigating the Earth's atmosphere and the underlying chemical and physical processes. It covers the altitude range from the land and ocean surface up to the turbopause, including the troposphere, stratosphere, and mesosphere.
The main subject areas comprise atmospheric modelling, field measurements, remote sensing, and laboratory studies of gases, aerosols, clouds and precipitation, isotopes, radiation, dynamics, biosphere interactions, and hydrosphere interactions (for details see journal subject areas). The journal scope is focused on studies with general implications for atmospheric science rather than investigations that are primarily of local or technical interest.
Transparent peer review for 20 years
: for 20 years, Atmospheric Chemistry and Physics has been a pioneer in transparent peer review. Submitted preprints, reviews, and author replies are posted and permanently archived on the journal website. This unique approach ensures the highest levels of scientific transparency and integrity, as well as
fair peer review
for authors.