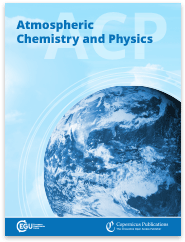 eISSN: ACP
1680-7324
, ACPD
1680-7375
Atmospheric Chemistry and Physics (ACP) is a not-for-profit international scientific journal dedicated to the publication and public discussion of studies investigating Earth's atmosphere and the underlying chemical and physical processes. ACP publishes studies with important implications for our understanding of the state and behaviour of the atmosphere and climate, including the troposphere, stratosphere, and mesosphere.
Topics include gases, aerosols, clouds, precipitation, dynamics, radiation and their role in the Earth's climate system (including the biosphere, hydrosphere, and cryosphere). Research activities include laboratory studies, field measurements, remote sensing, modelling and data analysis, and machine learning (for details see journal subject areas).
Transparent peer review for 20 years
: for 20 years, Atmospheric Chemistry and Physics has been a pioneer in transparent peer review. Submitted preprints, reviews, and author replies are posted and permanently archived on the journal website. This unique approach ensures the highest levels of scientific transparency and integrity, as well as
fair peer review
for authors.
News
11 May 2023
ACP introduced Outstanding Referee and Editor awards
The success of ACP heavily relies on the huge commitment of volunteers that dedicate their time and expertise as referees and editors. To recognize particularly outstanding contributions in these efforts, ACP introduced this year awards for Outstanding Referees and Outstanding Editor. Read more.


13 Apr 2023
ACP editor Guangjie Zheng awarded the 2023 Outstanding Early Career Scientist Award of the Atmospheric Sciences Division
Congratulations to our editor Guangjie Zheng, who will receive the 2023 Outstanding Early Career Scientist Award of the Atmospheric Sciences Division at the upcoming EGU General Assembly. Guanjie joined the ACP editorial board in 2022 and since then has provided her expertise of atmospheric multiphase chemistry processes to handle papers in the subject areas aerosols, clouds and precipitation, dynamics, and gases. If you attend EGU23, join the award lecture on Thu, 27 Apr 2023, 19:00.

Highlight articles




Recent papers






Notice on the current situation in Ukraine
To show our support for Ukraine, all fees for papers from authors (first or corresponding authors) affiliated to Ukrainian institutions are automatically waived, regardless if these papers are co-authored by scientists affiliated to Russian and/or Belarusian institutions. The only exception will be if the corresponding author or first contact (contractual partner of Copernicus) are from a Russian and/or Belarusian institution, in that case the APCs are not waived.
In accordance with current European restrictions, Copernicus Publications does not step into business relations with and issue APC-invoices (articles processing charges) to Russian and Belarusian institutions. The peer-review process and scientific exchange of our journals including preprint posting is not affected. However, these restrictions require that the first contact (contractual partner of Copernicus) has an affiliation and invoice address outside Russia or Belarus.