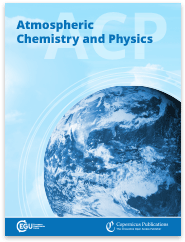 eISSN: ACP
1680-7324
, ACPD
1680-7375
Atmospheric Chemistry and Physics (ACP) is a not-for-profit international scientific journal dedicated to the publication and public discussion of studies investigating Earth's atmosphere and the underlying chemical and physical processes. ACP publishes studies with important implications for our understanding of the state and behaviour of the atmosphere and climate, including the troposphere, stratosphere, and mesosphere.
Topics include gases, aerosols, clouds, precipitation, dynamics, radiation and their role in the Earth's climate system (including the biosphere, hydrosphere, and cryosphere). Research activities include laboratory studies, field measurements, remote sensing, modelling and data analysis, and machine learning (for details see journal subject areas).
Transparent peer review for 20 years
: for 20 years, Atmospheric Chemistry and Physics has been a pioneer in transparent peer review. Submitted preprints, reviews, and author replies are posted and permanently archived on the journal website. This unique approach ensures the highest levels of scientific transparency and integrity, as well as
fair peer review
for authors.
News
28 Sep 2023
ACP appoints 18 new climate physics editors
We are pleased to announce the appointment of 18 new editors in the subject area of climate physics. The appointments follow a strategic decision by the journal to offer the community greater coverage of physical climate science, including cloud physics, atmospheric dynamics, boundary layer turbulence, precipitation processes, the water cycle and climate feedback processes. Please read more.


22 Sep 2023
ACP senior editor, Xiaohong Liu, and founding executive editor of ACP, Uli Pöschl, elected as AGU Fellows
Congratulations to Xiaohong Liu and Uli Pöschl for being elected as American Geophysical Union (AGU) Fellows! Xiaohong has been recognized for his exceptional contributions to the understanding of the fundamental mechanisms of aerosol impacts on clouds and climate and advancing atmospheric models. Uli has received this honour for his transformative contributions to the understanding of atmospheric multiphase processes and their impacts on the Earth system and public health. Their election as AGU Fellows demonstrates the high recognition and reputation of our editorial board members in the global atmospheric science community.

Highlight articles




Recent papers






Notice on the current situation in Ukraine
To show our support for Ukraine, all fees for papers from authors (first or corresponding authors) affiliated to Ukrainian institutions are automatically waived, regardless if these papers are co-authored by scientists affiliated to Russian and/or Belarusian institutions. The only exception will be if the corresponding author or first contact (contractual partner of Copernicus) are from a Russian and/or Belarusian institution, in that case the APCs are not waived.
In accordance with current European restrictions, Copernicus Publications does not step into business relations with and issue APC-invoices (articles processing charges) to Russian and Belarusian institutions. The peer-review process and scientific exchange of our journals including preprint posting is not affected. However, these restrictions require that the first contact (contractual partner of Copernicus) has an affiliation and invoice address outside Russia or Belarus.